What is The HR Consultancy Business Starter Package?
The HR Consultancy Business Starter Package is a bundle of resources for HR Professionals in the planning and pre-lauch stage of starting to offer Consultancy services.
The Package is made up of
1) The HR Business Creators programme – An 8 module self study training programme (Value – £375.00)
2) A 45 minute 1 to 1 Strategy Planning Call (Value – £125.00)
3) A Day 1 Blueprint for your first Day in Business (Value – £29.00) 
It is designed to be everything that you need to successfully plan and start your HR Consultancy Business
The HR Business Creators Programme
Each module includes training videos and a workbook for you to work through at your own pace and each one builds on the work covered in the previous module so you always know where you are up to, what you need to do and what comes next
Training Modules
The modules you will follow are 
Module 1 – Business Planning 
Module 2 – Your Business Proposition 
Module 3 – Building a Network of Potential Clients
Module 4 – Creating a Marketing Plan
Module 5 – Using LinkedIn to find Clients (Part 1) 
Module 6 – Using Linkedin to find Clients (Part 2) 
Module 7 – Pricing & Selling
Module 8 – How to find your first HR Consultancy Clients 
is The HR Consultancy Business Starter Package right for you?
Are you at one of the following stages?
1) You have started doing Consultancy work, it's still early days, you have had a few projects but you don't yet have a process for finding future clients
2) You are open for business but the business has not come your way just yet!
3) You are committed to starting a Consultancy business and are in the process of launching but you are not sure that you are doing the things you need to be doing
4) You are still deciding if Consultancy work is the right move for you and you want to know more about what it would involve and what you would need to do
Whatever stage you are at it's common to feel unclear about what you need to do and be overwhelmed and confused because you can see that there is a vast amount of information available but no clear pathway
You aren't sure if you can make it work, you don't know how to find clients, you are worried you won't be able to generate the income you need
This programme will help you to cut through the overwhelm
And give you that clear pathway
It is a step by step process of learning, making decisions and implementing them
Each module builds on the previous one
You just need to focus on the step you are on at the time
The HR Business Creators Programme will help you to keep moving forward, build up your confidence, provide a resource and roadmap for successfully starting your business and finding those first few clients.
You can do it at your own pace, in your own time and around your other commitments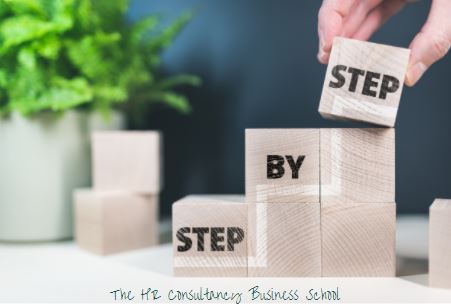 What does The Package cost?
The HR Consultancy Business Starter Package is valued at £529.00 overall (if the elements were purchased individually)
The Starter Package is currently available for £375.00
Included in this package is
1) The HR Business Creators Training Programme – 8 Training Modules and 8 Workbooks (Value – £375.00)
2) A 1 to 1 Strategic Planning zoom session (Value – £125.00)
3) A Day 1 Blueprint (Value – £29.00)
Tracey had lots of advice and was so helpful. I would recommend this programme to anyone who is considering setting up as self employed , considering running their own HR Business or even as a refresher for existing business owners.
Louise Rance
Tracey has really helped me to get the right steps in place for setting up my consultancy. She's given great guidance and encouragement to make sure I was giving my attention to the things that matter. Thanks Tracey!
Victoria Bond
Q – Can I do the programme if I'm not a HR Professional ?
A – The HR Consultancy Business Starter Package is for HR Professionals who are (or who are intending) to provide their services on a Consultancy basis – so whether this is as a Freelancer, an Independent Consultant, a Coach, a trainer or anything else related to the management and development of people in the workplace then the training package can support you in doing that.
Q – What if I'm not ready to start my business yet?
A – You don't need to be open for business during the programme. There is a huge amount you can do well in advance of actually launching. The programme will give you a really good grounding in what is involved in working for yourself. If you still have questions about whether or not Consultancy is the right step for you or you feel that you are lacking some confidence then this programme will help you to make a decision about what you want to do next.
Q – What if I have already started my business?
A – The start up phase of a business can go on for a very long time – well into the first year of establishing your business.  There may be some steps that you have missed out that will make a big difference to your results if you go back and do them.  If you are at the stage where you have already started to get business relatively regularly then The HR Studio may be the better option for you
Q – How long do I have access to the training?
A – You get access to the training for a minimum of 24 months after you purchase it so you can go over it as many times as you want to over that period.
Please note the following booking information 
When you buy the HR Consultancy Starter Package you will be sent an email with the joining information for the programme. If you do not receive this email within 3 hours of purchase then,
Check your spam folder as unfortunately they can end up in there, in spite of our best efforts.
The email will be sent to the email address that was on your PayPal booking.  If this is not your main email address and  you don't check it often (quite a common thing with PayPal accounts) then you may have missed it so double check there.
If you are still unable to find it then contact me at tracey@hrconsultancyschool.co.uk or by sending me a LinkedIn message and I will arrange for the information to be sent out to you again.
You will also be emailed a receipt of payment as confirmation within a few minutes of making the booking.